Buying a home is an important investment and a complex process. Selling your home requires care and expertise. A Realtor® brings professional expertise, local knowledge and trustworthy information.
Whether it's your first home or you're trading up, and whether you're moving across town or across the country, connect with a Realtor® to get the best value for your investment.
The term "Realtor®" is a registered collective membership mark identifying a real estate professional who is a member of the National Association of Realtors® and who also is affiliated with a state and local Realtor® association.
A Realtor® is different from a real estate licensee. All individuals legally practicing real estate in the US are licensed, but not all are Realtors®. Only Realtors® subscribe to a strict code of ethics that goes beyond what is required by law. Before engaging the services of a real estate professional, ask if he or she is a Realtor®. Learn more about the use of the term "Realtor®."
How my Realtor® will help me buy my home
The First Meeting

Your Realtor® will explain how agency works and present you with the Working with Real Estate Agents brochure. It's important to know your rights!
Analyzing your needs and desires will get the conversation started. Be sure to provide your agent with as much information as possible about what is important to you in a home.
Knowing how much you can afford is important from the beginning. Talk to your agent about your downpayment, current monthly obligations and getting pre-approved.

Working Together

Now that you are ready to search for a home, your Realtor® will provide you with his or her local market expertise and schedule appointments for homes that meet your criteria based on your budget.
Your Realtor®'s connections will prove to be one of his or her most valuable assets to you. Your agent will help link you to the right lender, attorney, home inspector, and other professionals that you might need to facilitate a smooth transaction.
Each home you preview will be unique. Your Realtor® will explain how a particular home fits in the current market based on price, resale attributes and potential pitfalls.

Protecting Your Assets

Knowing the details about the homes you are interested in can make all the difference. Your agent will provide you with property disclosures, HOA covenants and restrictions, deed restrictions and other potential factors to consider.
Now that you have found the right home, it's time to make an offer! Through years of negotiation experience your agent can help you determine the right starting point. There's a lot to consider here — supply and demand, current market analysis, how to present an offer that prevents you from overpaying while not insulting the seller — all while meeting your goals and timeframe. Don't worry — you're in good hands!
Do your due diligence. Your Realtor® will guide you through determining what inspections you need and help you negotiate any repairs that may arise.

The Road to Closing

Your Realtor® will ensure you are prepared for closing by coordinating with your lender, attorney and the seller's agent through the process to limit unexpected surprises.
Prior to closing and after the seller has removed belongings, your agent will schedule a pre-closing walkthrough to make certain the property is prepped and ready for your arrival.
Reviewing the Closing Disclosure with your Realtor® will help you understand the final required funds due to complete your purchase. You will be advised on how to transfer the funds to the closing attorney, receive a copy of all important documentation and, of course, the keys!

Life After Closing

Homeownership can be a daunting day-in and day-out task, but rest assured that your Realtor® will be there for you even after the closing.
If you received a Home Warranty, your agent can provide you with all the correct procedures for filing a claim if anything happens and help you understand what to expect for the repair process.
Realtors® have the best connections in the industry, and your Realtor® will continue to be your invaluable source of information for all things related to your home. Realtors® Make It Right!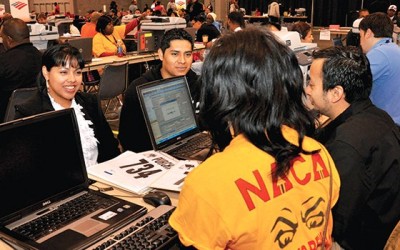 "Los invitamos a aprovechar esta gran oportunidad. Durante los dos eventos del año pasado en Jacksonville tuvimos cientos de latinos que acudieron y ahora ya tienen su casa o pudieron reestructurar sus préstamos", indicó Ricardo Herrera, vocero de NACA.
read more