Buying a home is an important investment and a complex process. Selling your home requires care and expertise. A Realtor® brings professional expertise, local knowledge and trustworthy information.
Whether it's your first home or you're trading up, and whether you're moving across town or across the country, connect with a Realtor® to get the best value for your investment.
The term "Realtor®" is a registered collective membership mark identifying a real estate professional who is a member of the National Association of Realtors® and who also is affiliated with a state and local Realtor® association.
A Realtor® is different from a real estate licensee. All individuals legally practicing real estate in the US are licensed, but not all are Realtors®. Only Realtors® subscribe to a strict code of ethics that goes beyond what is required by law. Before engaging the services of a real estate professional, ask if he or she is a Realtor®. Learn more about the use of the term "Realtor®."
How my Realtor® will help me sell my home

Setting the Stage

Your Realtor® will explain how agency works, and the difference between your agent and other agents who may be involved in aspects of the transaction, but actually represent another party. You'll be given the Working with Real Estate Agents brochure to help you know your rights.
Your Realtor® will give you an overview of the current market conditions and projections.
Your Realtor® will perform an exterior curb assessment of your home.

The Price is Right

Your Realtor® will research all comparable properties and the sales activity for the past six months to a year from MLS and public records databases to prepare a Comparable Market Analysis (CMA) to establish fair market value.
Your Realtor® will perform an exterior curb assessment of your home and advise you on features in high demand with buyers in the current market.
Your Realtor® will schedule showings for qualified, serious buyers.

The Marketing Strategy

Your Realtor® will listen to your needs and create an effective and strategic marketing plan geared to maximize return while staying in your comfort zone.
Your Realtor® will explain the advantages and disadvantages of various syndication services, IDX, web marketing and more.
Your Realtor® has access to an extensive network of buyer's agents and the multiple listing service.

The Road to Closing

Your Realtor® will schedule your pre-closing walkthrough and help you negotiate repairs.
Your Realtor® will ensure everything is prepared for closing by coordinating with the lender, title company and attorney.
Your Realtor® will help you understand the various closing documents.

Life After Closing

Your Realtor® will help you resolve or clarify any outstanding repair conflicts with the buyer.
Your Realtor® will continue to be your valuable information source for all things related to homeownership. Realtors® have the best connections in the industry; they know the best contractors, painters and handymen to ensure that your maintenance or renovation needs are well met.

 © Charlotte Regional Realtor® Association 2015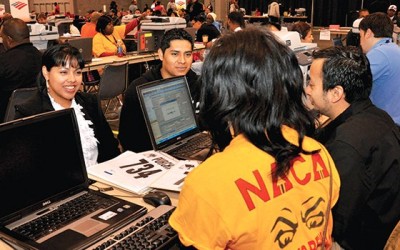 "Los invitamos a aprovechar esta gran oportunidad. Durante los dos eventos del año pasado en Jacksonville tuvimos cientos de latinos que acudieron y ahora ya tienen su casa o pudieron reestructurar sus préstamos", indicó Ricardo Herrera, vocero de NACA.
read more