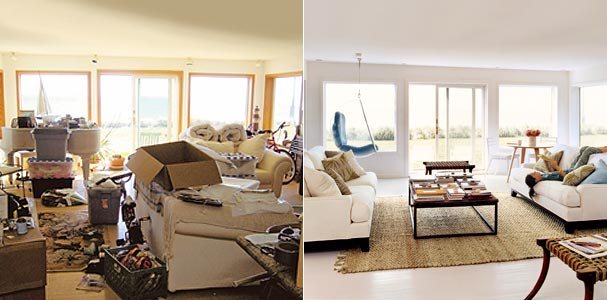 Many people get so intimidated when it comes to cleaning when preparing to sell a home. It's a lot like detailing a car before you sell it. You want everything squeaky clean. Here, I'll help you remember what to clean, including places that are so easy to overlook because buyers will look everywhere.
To make it more fun, get your family and friends to help and have a special dinner or barbecue afterwards. If you really don't see yourself doing a good job, it might be worth the investment to hire a professional cleaning service. Since cleaning comes after de-cluttering, I'm going to assume you've already de-cluttered the home and are ready to do a full cleaning, which is much easier to do after you've removed a good chunk of your belongings.
Let's get started, room by room. First, make sure you have all the supplies you need.You'll quickly lose motivation if you have to stop to find supplies or go out and buy them. Some tasks are repeated in every room, so to avoid being repetitive, I'll include these in a general list at the end.
1.  Entry
Guests will spend a good portion of time here as they walk in, look around, take their coats/shoes off and take in their surroundings.
Make sure the door and all hardware are sparkling clean.
Wipe off any fingerprints, which are quite common here.
Check for scuff marks along the walls or even the bottom of the door. If there's too much dirt and too many marks, it may mean it's time to repaint the door or walls. If scrapes are minor, try Mr. Clean Magic Eraser.
Clean your welcome mat or get a new one.
Make sure the light bulbs are all working and that you clean and dust the fixture and the bulbs.
Check the coat closet, if applicable, and make sure the walls and floor are clean and free of marks and dents. Remember, pack away unused items so there's extra room in there, making it look spacious.
2.  Kitchen
Buyers tend to spend lots of time in the kitchen, so really spend the time here to make sure it's extra clean.
Wipe down all the cabinets. You'd be amazed how much food splatters and grease get on the doors and hardware.
Clean all appliances, inside and out. This includes the entire interior of the refrigerator, dishwasher, and oven/stove.
Don't forget to clean the stove hood, both on top and underneath. Make sure the grill is clean, the light bulb is working, and the actual unit works.
Pull out the refrigerator and clean behind it, including the cords. Clean underneath the refrigerator as well. Vacuum the grill underneath.
Clean the microwave inside and out.
Don't forget to clean underneath the sink. Take out everything and wipe down the entire inside, including the pipes. Put everything back in an organized way.
Clean the garbage can inside and out. A good tip is to use scented garbage bags and/or put an air freshener or baking soda package in the cabinet. This will help keep it smelling fresh.
Wipe down counters and backsplashes.
Wipe down any small appliances or other items on counters, which as you learned in decluttering, should be minimal. You should only have a maximum of 3 items out, such as a coffeemaker.
Wipe down any blinds or shades and wash any curtains or throw rugs.
If drawer liners have seen better days, replace them.
Clean out the junk drawer and take out and clean the utensil tray and drawer.
Find one place, out of sight if possible, to store and keep pet food, dishes, and other supplies.
3.  Dining Room
Clean and wax all furniture.
Check seat covers for stains or dirt. Wash or use stain remover, if possible. Wash slipcovers if you have them.
Wash any rugs or curtains.
You should have already de-cluttered inside your china cabinet or buffet, but make sure you wipe down the insides and all the contents.
4.  Living Room and Family Room
Wipe down the television. Clean the screen. Make sure you read the manufacturer's guidelines for what to use, depending on the type of screen you have.
Vacuum and/or wash sofa, loveseat, and chair cushions. Make sure to take off the cushions and vacuum underneath them. Also, move the sofas to make sure you get any wayward items that rolled underneath or fell behind these pieces. Dust bunnies and pet fur (or feathers) always collect here.
5.  Bathrooms
Make sure these spaces are spotless. Wipe down all surfaces.
Common missed areas include behind the toilet and underneath the sink. Make sure the pipes and fittings are cleaned well. Replace any missing plastic bolt covers on toilets.
Wipe down counters and any other furniture.
Make sure the mirrors sparkle.
Since de-cluttering, you should only have absolute necessities on display. Make sure they are clean (such as the toothbrush holder). Although, anything you can put out of sight is better.
Clean out under the vanity and make sure it's organized and that you removed stuff when de-cluttering so that it appears spacious.
Clean every crack and crevice on the toilet, even inside the tank. Remove any stains. You might even want to add those cleaning tablets. Buy one of those disposable toilet brushes with flushable pads to use for quick in-between clean-ups. I actually recommend using this instead of the typical toilet brush. This way, you don't have to have that germ-filled brush on display.
Wash the shower curtain, any window treatments, and bath rugs.
Clean every crevice in the shower and tub. Scrub the grout with a cleaner and toothbrush. If it's really grimy you might want to replace the grout.
Scrub the floors and clean the grout lines.
After de-cluttering, you should have removed personal items, but make sure any that remain are neatly stored or organized. You might want to invest in a shower caddy to keep things in one place. The same goes for kids' toys in the tub.
Keep dirty clothes and towels off the floor. Clothes should be in a hamper, and towels should be on rods or hooks.
Remove any prescriptions to a safe location. You actually shouldn't store medication in the bathroom anyway.
Clean the fan and make sure it's functioning.
6.  Bedrooms
Wash sheets, blankets, and comforters.
Wash or dry clean curtains and rugs.
Remove any stains on any fabrics.
Wipe down all furniture.
Clean the walls and floors of closets.
Keep dirty laundry off the floor or furniture. Put them in a laundry basket or bring them to the laundry room.
For kids rooms, keeps toys and other items corralled in one area and store them in containers.
7.  Hallways
Wipe down walls, baseboards and any wall art or mirrors.
Make sure to get cobwebs and dust our of corners and along the ceilings. Also clean ceiling vents.
Clean off any marks on walls. Hallways easily collect these things. Mr. Clean Magic Eraser works great for this.
8.  Attics, Basements, and Garages
Give each of these rooms a thorough cleaning.
Sweet attic floors.
Sweep and wash the garage floors (and basement floors, if possible) and wipe down the walls.
Get rid of any dust, dirt, and debris, especially from corners and along the ceiling lines.
Make sure to clean up any signs of bugs or rodents, such as nests or droppings.
Wash the windows — yes, even basement, garage and attic windows should sparkle.
Clean off shelves and racks.
Remove stains from garage floors. If walls and floor are particularly messy, they may need to be painted or repainted.
Clean garage doors, including the tracks, and make sure they function properly.
If you have to store things in either of these places, make sure they are organized well.
If you have no other place to store packed boxes, at least stack them in one corner only.
9.  General Tips For All Rooms
Clean plant pots and make sure the plants are in good health.
Wipe down baseboards, moldings, and trim.
Clean baseboard heating units. If they are in really bad shape, it might be best to paint them. Make sure to use the appropriate type for heating vents.
Clean windows inside and out. Dirty windows don't let as much natural light into your home.
Quick tip: wipe horizontally on the inside and vertically on the outside (or vice versa) so if there are streaks, you know which side they are on.
Clean all light fixtures and check to make sure all bulbs are working. Don't forget to dust off the bulbs as well.
Don't forget to clean ceiling fans. They are notorious dust collectors.
Clean all hard surfaced floors. Wax wood floors.
Steam clean the carpet. You can either rent a steamer at a home improvement store, or if you need a deep cleaning, it might be best to hire a professional. If the carpet is that bad, you might want to replace it.
Spot clean, wash, or dry clean rugs, depending on size, type, and manufacturer's recommendations.
Wash or dry clean curtains and draperies. Dust and wipe down any blinds.
Make sure all hardware on cabinets, dressers and doors sparkles.
In addition to washing the window glass, make sure to clean all the edges, channels, along the tops of double-hung windows, or the sides of sliding windows. Pay attention to corners, where dust often collects, as well as the window tracks.
Clean and wipe down all walls. Make sure to dust in the corners of ceilings and floors, as well as where the walls meet the ceiling and floors.
Clean all TV and computer screens by following manufacturer's directions.
Clean the frames and glass of all pictures and other wall art.
Don't forget to wipe down cords and wires for electronics such as TVs, DVDs, computers and more.
If they are messy, consider bundling them using one of the many options available in the marketplace.
Make sure pet cages, beds, toy containers, etc are neat, organized and placed out of site, if possible.
Contain kids' toys in one room and put them in decorative boxes, containers, or even storage ottomans.
Empty garbage cans before any showings.
Keep a box of cleaning wipes in the kitchen and bathrooms.
Wipe all mirrors — in bathrooms, as well as those hanging throughout the home. Also clean glass covers of picture frames.
Tip: White distilled vinegar and baking soda are your best friends for so many different cleaning tasks.
Overall, you want everything to shine and sparkle. Not only do buyers not like seeing other peoples' dirt, but a clean house also tells them that you take good care of the house. Just assume that buyers might and will look anywhere and everywhere, so make sure you get every crevice and corner.
"They eat down there so they won't scratch the new kitchen cabinets when they are excited and jumping up to see their food being prepared," says Morgan. "We keep their food in the downstairs refrigerator and warm it in their own microwave. The Keurig is for making hot water to rehydrate or warm meals."
read more