SPEAKING two languages rather than just one has obvious practical benefits in an increasingly globalized world. But in recent years, scientists have begun to show that the advantages of bilingualism are even more fundamental than being able to converse with a wider range of people. Being bilingual, it turns out, makes you smarter. It can have a profound effect on your brain, improving cognitive skills not related to language and even shielding against dementia in old age.
This view of bilingualism is remarkably different from the understanding of bilingualism through much of the 20th century. Researchers, educators and policy makers long considered a second language to be an interference, cognitively speaking, that hindered a child's academic and intellectual development.
They were not wrong about the interference: there is ample evidence that in a bilingual's brain both language systems are active even when he is using only one language, thus creating situations in which one system obstructs the other. But this interference, researchers are finding out, isn't so much a handicap as a blessing in disguise. It forces the brain to resolve internal conflict, giving the mind a workout that strengthens its cognitive muscles.
Bilinguals, for instance, seem to be more adept than monolinguals at solving certain kinds of mental puzzles. In a 2004 study by the psychologists Ellen Bialystok and Michelle Martin-Rhee, bilingual and monolingual preschoolers were asked to sort blue circles and red squares presented on a computer screen into two digital bins — one marked with a blue square and the other marked with a red circle.
In the first task, the children had to sort the shapes by color, placing blue circles in the bin marked with the blue square and red squares in the bin marked with the red circle. Both groups did this with comparable ease. Next, the children were asked to sort by shape, which was more challenging because it required placing the images in a bin marked with a conflicting color. The bilinguals were quicker at performing this task.
The collective evidence from a number of such studies suggests that the bilingual experience improves the brain's so-called executive function — a command system that directs the attention processes that we use for planning, solving problems and performing various other mentally demanding tasks. These processes include ignoring distractions to stay focused, switching attention willfully from one thing to another and holding information in mind — like remembering a sequence of directions while driving.
Why does the tussle between two simultaneously active language systems improve these aspects of cognition? Until recently, researchers thought the bilingual advantage stemmed primarily from an ability for inhibition that was honed by the exercise of suppressing one language system: this suppression, it was thought, would help train the bilingual mind to ignore distractions in other contexts. But that explanation increasingly appears to be inadequate, since studies have shown that bilinguals perform better than monolinguals even at tasks that do not require inhibition, like threading a line through an ascending series of numbers scattered randomly on a page.
The key difference between bilinguals and monolinguals may be more basic: a heightened ability to monitor the environment. "Bilinguals have to switch languages quite often — you may talk to your father in one language and to your mother in another language," says Albert Costa, a researcher at the University of Pompeu Fabra in Spain. "It requires keeping track of changes around you in the same way that we monitor our surroundings when driving." In a study comparing German-Italian bilinguals with Italian monolinguals on monitoring tasks, Mr. Costa and his colleagues found that the bilingual subjects not only performed better, but they also did so with less activity in parts of the brain involved in monitoring, indicating that they were more efficient at it.
The bilingual experience appears to influence the brain from infancy to old age (and there is reason to believe that it may also apply to those who learn a second language later in life).
In a 2009 study led by Agnes Kovacs of the International School for Advanced Studies in Trieste, Italy, 7-month-old babies exposed to two languages from birth were compared with peers raised with one language. In an initial set of trials, the infants were presented with an audio cue and then shown a puppet on one side of a screen. Both infant groups learned to look at that side of the screen in anticipation of the puppet. But in a later set of trials, when the puppet began appearing on the opposite side of the screen, the babies exposed to a bilingual environment quickly learned to switch their anticipatory gaze in the new direction while the other babies did not.
Bilingualism's effects also extend into the twilight years. In a recent study of 44 elderly Spanish-English bilinguals, scientists led by the neuropsychologist Tamar Gollan of the University of California, San Diego, found that individuals with a higher degree of bilingualism — measured through a comparative evaluation of proficiency in each language — were more resistant than others to the onset of dementia and other symptoms of Alzheimer's disease: the higher the degree of bilingualism, the later the age of onset.
Nobody ever doubted the power of language. But who would have imagined that the words we hear and the sentences we speak might be leaving such a deep imprint?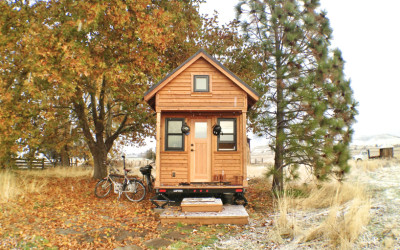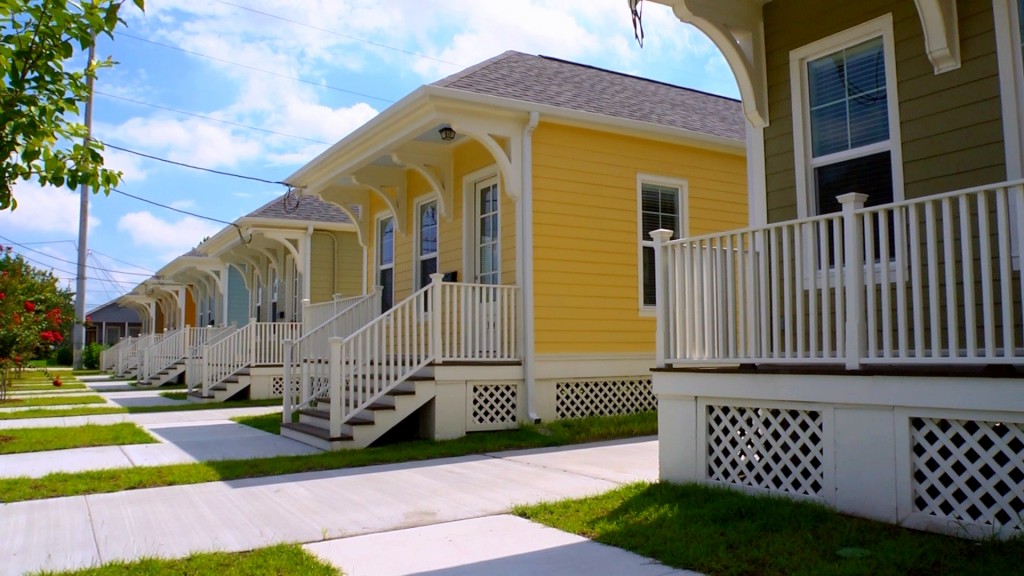 Owning a house has grown into an integral aspect of the 'American Dream'. This concept shared by generations of Americans was coined by James Truslow Adams in 1931 and pertains to the belief that anyone regardless of their circumstances at birth can pursue a better life by working hard. Becoming a homeowner symbolizes for many the achievement of the American Dream in terms of it's implications of security and success. But like our cars and dinners, our homes keep on growing.

The average American home in 1950 was around 983 square feet, which grew to 2,480 square feet by 2011. Amidst an overwhelming ethos where size equals value, a tiny little movement has been quickly gaining momentum. The American Dream is being re-evaluated by homeowners who consciously choose to live small, often within 500 square feet of space or less. Much like Shipping Container Architecture, The Tiny House Movement has blossomed into a versatile, sustainable and budget friendly housing solution in a time where these things matter.
So why are Americans shrinking the size of their American Dreams? Many Tiny-Housers embrace downsizing as a way to own a home without the financial ties of a mortgage and property tax. They are more focused on enjoying life, time with family and pursuing a satisfying career than working the majority of their time to own a home they rarely use.
An InSoFast customer who is building her own tiny home in Texas from a shipping container says she's more interested in a minimalist lifestyle that allows her to truly experience life as opposed to working hard sustaining existence. She also finds that it fulfills both her creative needs and her desire to live sustainably.
Tiny house owners Tammy and Logan of Portland, Oregon were $30,000 in debt before downsizing from a 2 bedroom apartment to their 128 square foot tiny house. "Jobs move, people lose jobs, people die," Tammy describes, "So how can you structure your life so that you're more flexible and embrace the good stuff even when loss makes it really really difficult?" Their small home was designed by Tiny House revolutionary Dee Williams (owner of PAD Tiny Houses). It's minimal, cost $33,000 to build and it's on wheels.
By putting the home on wheels Logan says, "We are legal when it comes to a lot of the building codes, because by being on wheels we are actually under the Department of Transportation and not a part of the City Building Codes". They also do not have to pay property tax. Tammy and Logan have since moved their home to California and continue to provide advice to Tiny Home builders through their blog and a recent book release.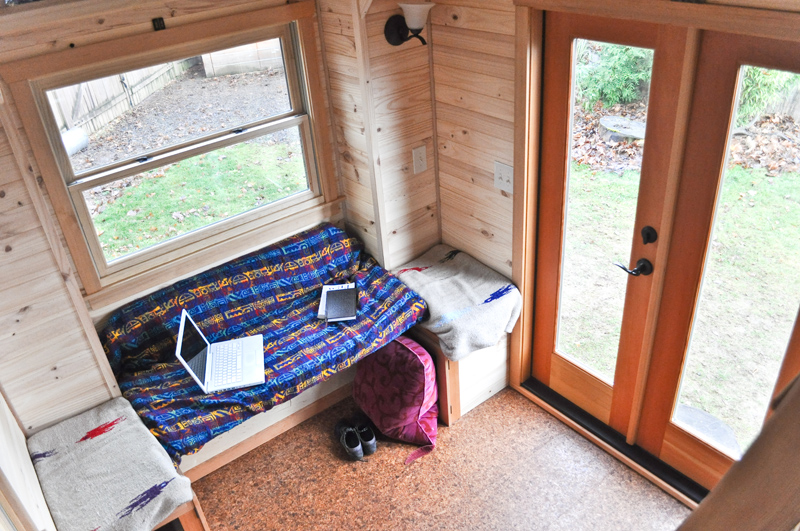 Dee Williams who designed Logan and Tammy's home is a renowned pioneer of the Tiny House Movement. In 2004 Williams left her 4-bedroom home behind and built her own 84 square foot little home. Dee says, "The facts are the facts. I've found a certain bigness in my little house- a sense of largeness, freedom, and happiness that comes when you see there's no place that you'd rather be". Since changing her lifestyle she founded PAD (Portland Alternative Dwellings), where she provides consultation and workshops for future Tiny House builders. This year Williams released a memoir "The Big Tiny" that chronicles her journey into the big world of Tiny House living.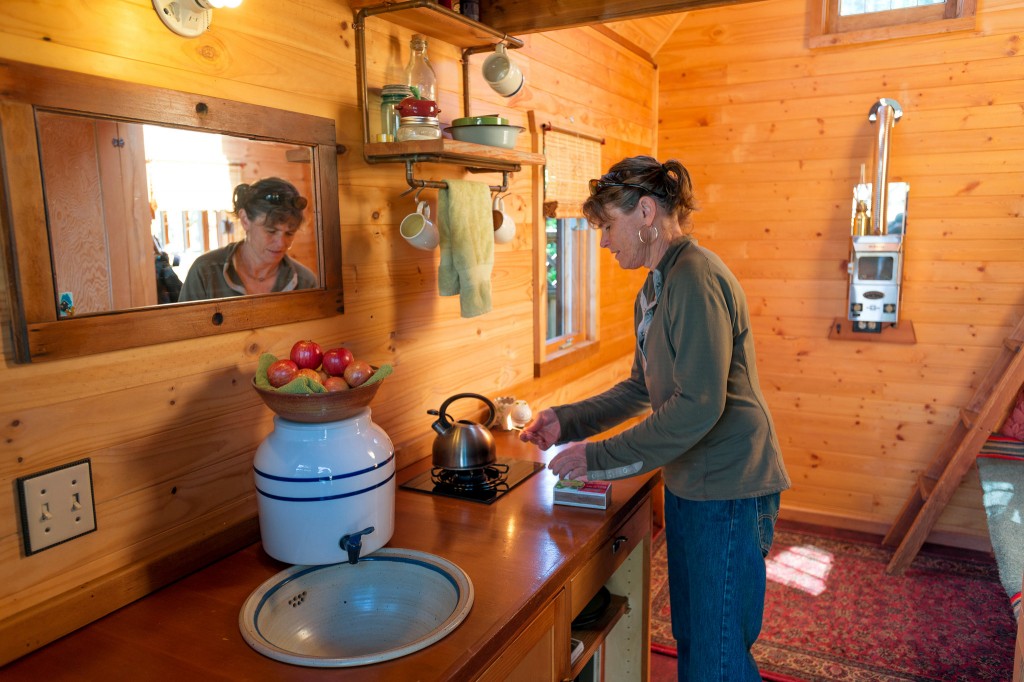 Like Dee who built her Tiny House for $10,000, a large number of new tiny homeowners choose to build themselves. Recently a family of four in Florida built a 320 square foot home out of mostly salvaged materials for only $12,000. It's actually not even unusual for DIY Tiny Home builders to complete a project with as little as a few thousand dollars. La Mar Alexander built a 400 square foot solar powered cabin for only $2,000.
We've had several DIYers use InSoFast panels for insulating small structures. Earlier this year our UX panels were used to insulate a shipping container Tiny Project in Brooklyn, NY. And in North Carolina a customer built a small cabin structure with UX 2.0 panels as exterior insulation (pictured below). The DIY nature, quick installation and high performance of InSoFast makes it a great insulation option for Tiny Houses.
Tiny homes can also be an affordable solution for low income housing and crisis situations. Back in 2005 in the wake of the Hurricane Katrina disaster thousands were left homeless. FEMA initially came up with the solution to provide emergency trailers. Over 23,000 trailers were installed in New Orleans alone from 2005 onward after Katrina wreaked havoc, but the inadequacies of these structures as livable homes quickly came to the surface. Not only did these manufactured homes feel temporary, but later on a multimillion dollar lawsuit was filed. High levels of formaldehyde were found in the FEMA trailers, causing major health issues for the trailer inhabitants.
Amidst FEMA's decision to use the trailers during the crisis, the architect Marianne Cusato became inspired to design a solution of her own. Since the FEMA trailers were made from cheap materials like aluminum and particle board, they were structurally cheap, flimsy, and uninsulated. Cusato's plans were designed to be permanent and safe, equivalent to an actual home. Although some of the homes went up to 1,800 square feet, most were designed with 'tiny' in mind.
Starting at around 300 square feet these small options were quick to build, spatially smart, and buyable in 'kit form'. "What the Katrina Cottage is, is an alternative to the FEMA trailer. No joke. And get this: It costs less…Cusato thinks her cottage could be manufactured for about 45 grand. Or less. [where FEMA trailers cost tax payers around $75,000 each] Plus, you can add on to it. So it's a temporary solution with a lease for permanence."
Eventually Lowe's partnered up with Cusato and released several Katrina Cottage kits for sale throughout the country. $74.5 million was awarded by Congress to build Katrina Cottages at four sites in Louisiana, proving Tiny Homes to be a fitting solution.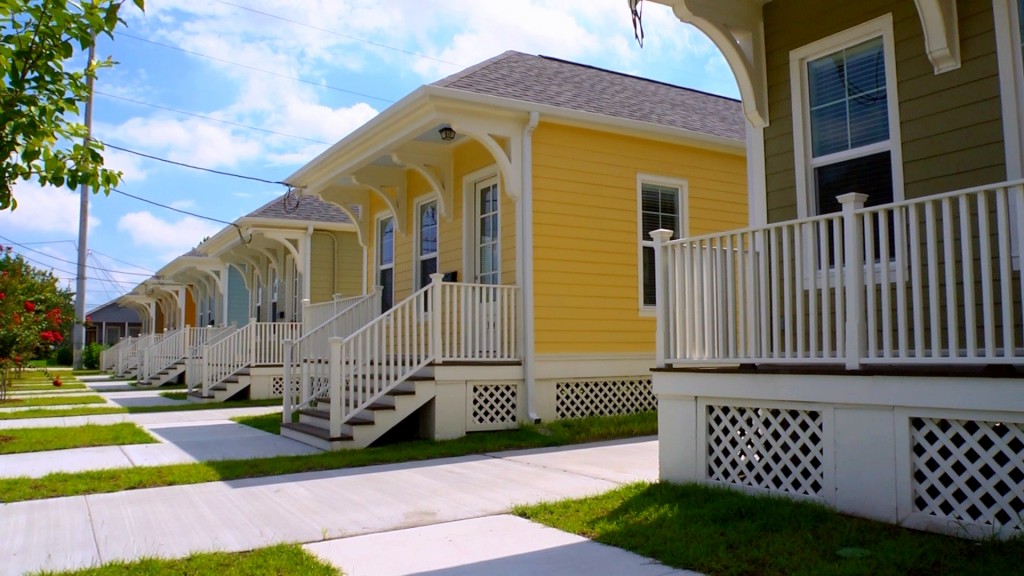 So is the age of the McMansion over? It's hard to say. But for many people the American Dream seems to be changing. The Tiny House Movement is dipping into America's mainstream with new TV shows like Tiny House Nation. And in certain cities like Portland, Oregon, it's estimated that 1 in 10 homes are considered 'Tiny'. With their versatility, cost-effectiveness, small carbon footprint, and DIY nature, Tiny Homes could very well be the norm of the future.
All Credit to: InSoFast. Great Site!